High-pressure air and gas applications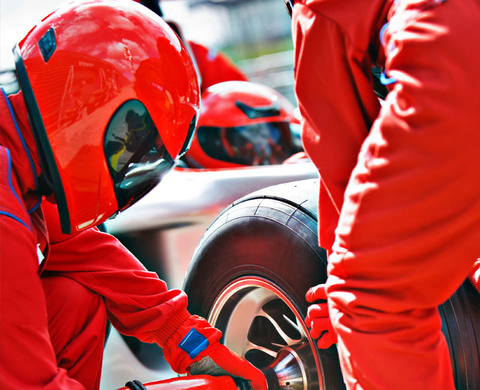 Whether DTM in Germany or Formula 1 all over the world, motor racing is a high-performance sport in which fractions of a second count. Nowhere is this more true than in the pit, where perfectly harmonised interplay between driver and service team decides victory or defeat.
This fascination with speed relies on all high-quality components working together efficiently and effectively.
Our compressor systems support air logistics with the reliability and precision pit teams need when servicing the cars at lightning speed, supplying compressed air to jacks and tools. Furthermore, our tailor-made storage solutions ensure that even when demand hits a peak, compressed air will be available in the correct amount needed.
Specific applications of BAUER compressors
Supply of compressed air at high pressure for jacks
Supply of compressed air at high pressure for tools
Filling of storage vessels
Who are the customers of BAUER KOMPRESSOREN?
Automotive manufacturers and component suppliers
Motorbike manufacturers and component suppliers
Motor racing teams
Organisers of long-distance races
Organisers of touring car championships
The benefits BAUER KOMPRESSOREN can offer you
High machine availability during races
Compressor systems with the very latest technology for continuous operation (24/7)
Complete systems covering everything from compression to treatment, monitoring, storage and distribution
Global spare parts supply for at least 25 years
High operator safety
High value retention of compressor units
Proven technology
Which BAUER compressors support this type of application?
The series
Free air delivery rates
Pressure ranges
Medium
Breathing air
100 – 1.480 l/min
90 – 500 bar
– Air
– Breathing air