Stress-free, perfect organization – BAUER CLOUD services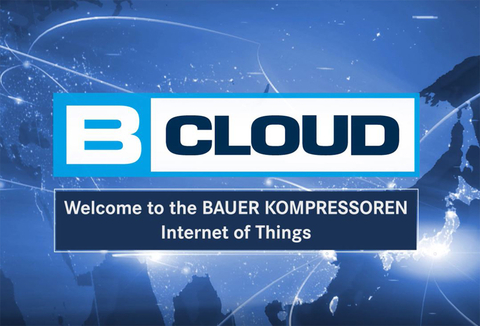 BAUER B-CLOUD1 always keeps you in the picture. Tackling any challenge becomes a smoother and simpler task. One glance at your B-APP or B-CLOUD browser app, and you have an overview of all the most important information you need, whether you need to check the status of your systems or call in one of our experts over a more complex issue. We work with you to track down faults and solve your problem, wherever your physical location in the world. Top-class condition monitoring!
If your device develops a fault, B-APP sends you a push message with a machine diagnosis identifying exactly where the problem is. But things need never go that far; B-CLOUD informs you of upcoming regular maintenance works and can connect to your authorized BAUER service partner if desired. This service marks BAUER's entry into the Internet of Things, combining all the benefits of the Internet with BAUER's hallmark quality and reliability.
Archiving key data is also child's play, either in Excel form or as a universal PDF. You can also create automatic monthly reports to streamline your organization. Say goodbye to stress!
1 Please note that B-CLOUD services are not available in all states.
All the information you need at your fingertips!
OVERVIEW OF BAUER SYSTEMS WITH B-CLOUD CONNECTION FUNCTION
To use B-CLOUD, you need a system with B-CONTROL MICRO +net control with software version 3.73 or higher. Older systems from version 3.0 can receive a software update and thus become B-CLOUD compatible.
When you switch on your control, the current software version is displayed. This allows you to check whether your system is compatible with B-CLOUD.
At present, the following BAUER systems are B-CLOUD ready:
MINI-VERTICUS
VERTICUS
PE-VE
KAP-H / KAP-HN
B-DETECTION PLUS s (gas measurement system)
Air-cooled large-scale systems (K22-K28)
DATA SECURITY
An integral part of B-CLOUD1 involves ensuring the security of compressor systems and the data they transmit. Particularly rigorous protection applies to compressor authentication, communication and identification. End-to-end encryption is in place for all data transmitted between control unit and cloud.
1 All data stored in B-CLOUD is stored in a high-security data centre located in Western Europe. B-CLOUD complies with the requirements set out in the EU-GDPR and uses SSL encryption. Please note that B-CLOUD services are not available in all states.