BAUER's commitment for the environment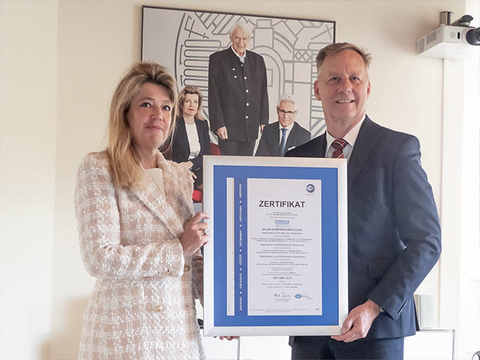 BAUER has consistently pursued the goal of increasing sustainability in its operations for many years. As early as 1995, the company opened a public fuelling station for eco-friendly CNG-powered vehicles at its premises at the time. Given the challenges presented to us all by climate change, Dr Bayat has made it her personal mission to consistently reduce BAUER's ecological footprint. Practising sustainability is embedded in the company's corporate philosophy as a technology leader in the mechanical engineering industry.
Mindful of this responsibility, in 2020 BAUER embarked on the ISO 14001 certification process with the goal of recording, evaluating and continuously improving the specific environmental impact of its operations and its compliance with the relevant environmental laws and regulations. Cross-departmental training sessions provide support for the employees as they aim for the goal of aligning the company's operations and activities with consistent sustainability. After all, the foremost customers for this management system are the company employees themselves. They need to understand the requirements of the management system, accept them and live with them. Without their active involvement, there can be no waste separation and sorting, no energy efficiency and no optimization of water consumption.
The wide-ranging package of actions already taken or planned for the immediate future underpins and guides the continuous improvement process. It includes increasing energy efficiency in buildings and production processes, avoiding environmentally harmful materials, boosting the proportion of recycled material in products and packaging and, not least, changing the company's vehicle fleet over to climate-neutral mobility step by step. TÜV SÜD's certified and impartial auditors investigated BAUER's conformity with the standards set forth for its environmental management system and have now confirmed the company's success by presenting BAUER with its ISO 14001 certificate.