High-pressure breathing air applications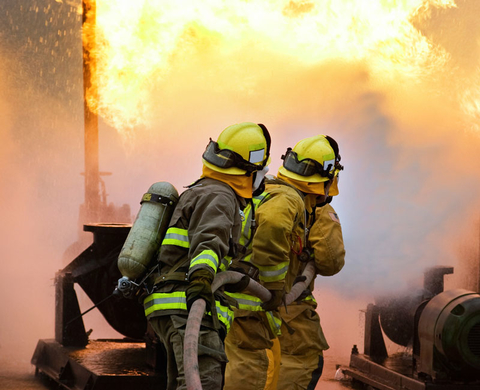 Whether in the seat of a fire or in a contaminated environment, a fire fighter must be able to depend on everything in an emergency situation: colleagues, protective equipment and above all an absolutely reliable breathing air supply.
BAUER KOMPRESSOREN can supply tailor-made equipment concepts for situations such as these. We are able to provide fire crews and civil protection services with both stationary equipment that is housed inside fire stations and mobile devices installed on emergency vehicles for use where fire breaks out or disasters occur. Our systems provide safety and security 24 hours a day, 7 days a week, 365 days a year.
Specific applications of BAUER compressors
Filling of breathing air cylinders 200 / 300 bar
Breathing air treatment in accordance with international breathing air standards
Air quality monitoring and testing
Storage solutions up to 420 bar / 500 bar
Compressor installations for emergency vehicles
Who are the customers of BAUER KOMPRESSOREN?
Professional fire services
Volunteer fire services
Works fire services
Civil protection services
Vehicle equipment manufacturers
Towns and cities / municipal services
The benefits BAUER KOMPRESSOREN can offer you
Complete systems covering everything from compression to treatment, monitoring, storage and distribution
High machine availability in practical application conditions
Global spare parts supply for at least 25 years
High operator safety
High value retention of compressor units
Proven technology
Which BAUER compressors support this type of application?
The series
Free air delivery rates
Pressure ranges
Medium
Breathing air
100 – 1.480 l/min
90 – 500 bar
– Air
– Breathing air