News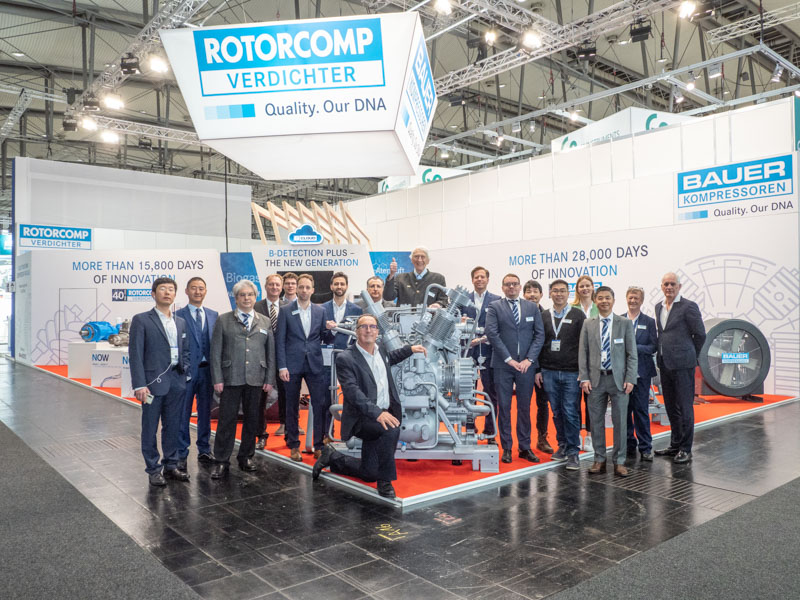 Munich, April 28, 2023
New BAUER industrial series are unveiled at the ComVac trade show in Hanover, Germany
The company's three new K22, BK 23 and BM series, featuring directly coupled units, represent the
perfect synthesis of performance and compact design.

Trade show visitors were particularly fascinated by the BM Series. As the name indicates (BM stands
for BAUER Mitteldruck or "medium pressure"), these are medium-pressure compressors that deliver
pressures of up to 30 bar for the two-stage models, and up to 100 bar for the three-stage models.
With free air delivery from 620 to 7200 l/min and power ratings from 11 to 132 kW, these air-cooled
systems serve an enormously broad range of applications.

The new air-cooled K 22 Series raises the bar for the 22 to 37 kW category. These systems can now
be used as boosters in nitrogen compression and are also available for helium and argon. With an
extensive free air delivery range from 600–4200 l/min at pressures from 55 to 525 bar, they can be
used in a wide range of applications.

The water-cooled BK 23 Series now features extended power ratings from 22 to 45 kW. The new
series offers an even more compact footprint and reduced vibrations compared to its predecessor,
and is available in a pressure- and gas-tight model. Available free air delivery ranges from 45 m³/h to
402 m³/h at final pressures from 25 to 420 bar. The series is suitable for applications involving air,
nitrogen, helium, heliox, argon, natural gas and biomethane.

As BAUER had anticipated, the new products were received with enthusiasm and interest by trade
show visitors. The team from the BAUER stand can look back on an extremely successful week at the
trade show, packed with in-depth discussions and prospects of exciting new projects for the future.
BAUER KOMPRESSOREN GmbH
Stäblistr. 8
81477 Munich, Germany
Tel.:
+49 (0) 89 / 78049 – 0
Fax:
+49 (0) 89 / 78049 – 167
E-Mail:
info

@

bauer-kompressoren

.

de